Wooden Swimming Pools
Above Ground, easy & quick installation, no construction approval required! Dive in Our Above Ground Wooden Pools. Made Just For You!
We care about your children safety!
Children safety is always a major concern for us while we are designing our range of Wooden Swimming Pools. The combination of detachable external ladder and freestanding installation makes the pool ideal for children and their cautious parents. Although our products are kid-safe, please remember that the children should always use the pool under the direct supervision of an adult..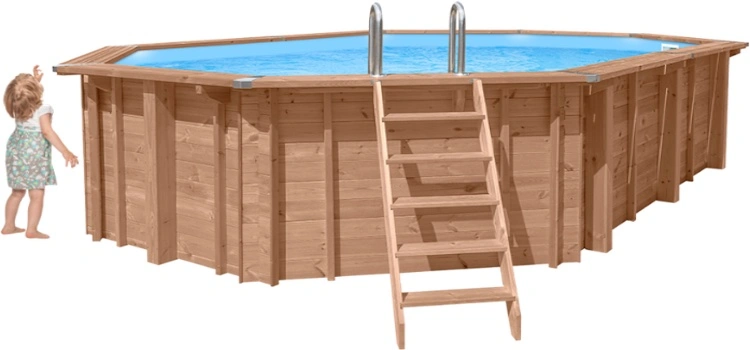 ---
Swim in quality and style
There are days when we all would love to just swim away from daily troubles. We perfectly get it! Therefore, our biggest wooden pool is over 8 metres long and it will give you enough space to swim. Dive in, we made it just for you!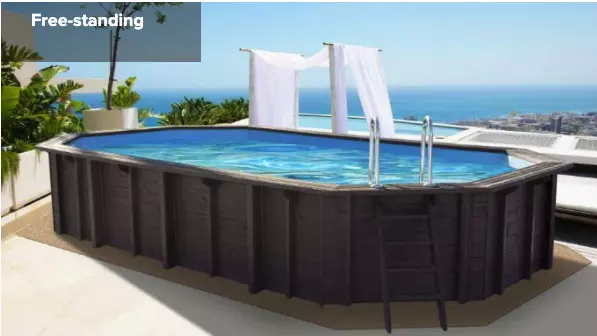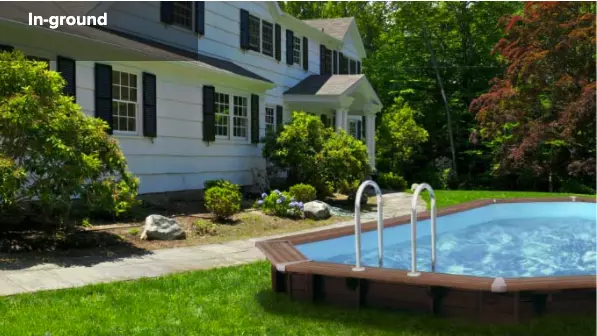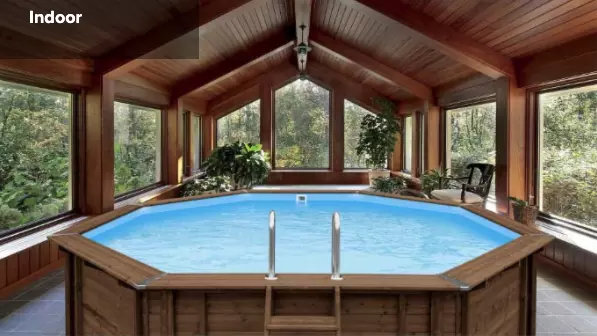 ---
Top-class wooden pools for your garden
- Naturally consistent

- Quick set-up

---
An ecological one pool construction system, that convinces
This "Do-It-Yourself"-Model is here,for your garden! Natural, sustainable and quick to set up, it turns your garden into a pool paradise within a weekend.
Longer lifespan and optimal protection: The deck of the wooden pools is made of strong spruce wood.
For optimal protection, the decks are pressure treated. Impregnation is an effective and ecological wood protection process that makes the spruce wood particularly durable, protects it from fungal attack and significantly extends its lifespan outdoors.
Clever construction simplifies assembly: All Wooden Pools consist of chrome-free, pressure-treated round profile wood with double groove
and spring system and a water-repellent profile. All anthracite-colored pools are only impregnated and not pressure-treated, kids' pools only glazed.
The side walls are made up of individual planks that are stacked on top of each other during assembly. You are supported by the perfect fit of the tongue and groove system, which is achieved using the latest milling technology.
---
Wooden pools & matching accessories
The installation parts, pool filter system and stainless steel ladder are of course included in the scope of delivery, as is the pool fleece to protect the inner cover.
Optionally, you can get a matching filter box, as well as stainless steel corners for the handrail joints. But also the complete pool accessories such as covers for summer & You can order winter, pool cleaner and water care at the same time.

Sun terrace
stainless steel corners
technical box

Roll protection cover - available for all pools!
Inflatable pool cover
PEB winter tarpaulin
ISO solar tarpaulin
Wooden pool rectangle
0,6 mm Pool liner in BLUE

L320 x W350 x D124 cm
L440 x W350 x D124 cm
L530 x W350 x D124 cm
---
0.8 mm thick pool liner for long bathing fun
The scope of delivery includes a robust pool liner with a thickness of 0.8 mm (only for octagonal pools). This is one of the most important differences to conventional wooden pools from the hardware store and corresponds to an extremely high quality standard, which is normally only used in system pools. You also have the choice between the Adriatic blue or Caribbean sand color commonly used in Germany.
The Wooden Pools in octagon are available in three different sizes, with either blue or sand-colored pool liner with a thickness of 0.8 mm.
The basins in anthracite are also available with white foil.

Highlight: metal corners

Increased corner stability thanks to the Chromeline corner connection and KDI wooden panels
Screw connection with hexagonal wood screws
Particularly weather-resistant - construction made of pressure-treated wood
Wooden pool octagon long shape
0.8 mm pool liner in BLUE, SAND or WHITE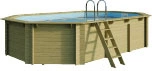 L610 x W400 x D120 cm
L700 x W400 x D124 cm
Wooden pool octagon
0.8 mm pool liner in BLUE, SAND or WHITE

L400 x W400 x D124 cm
L470 x W470 x D124 cm
L547 x W547 x D124 cm
(only available in wood colors)
---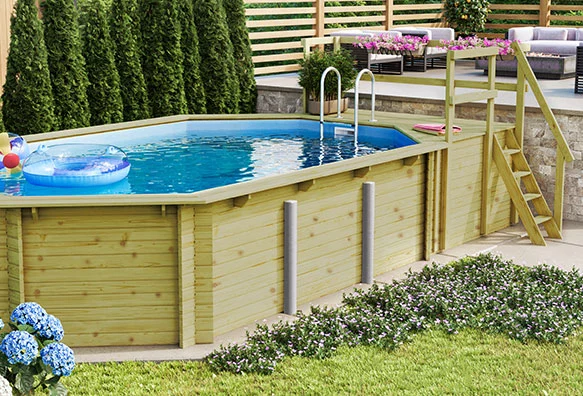 Front sun terrace
The front sun terraces can also be ideally used as a spacious technology shaft.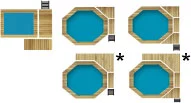 Lateral sun terrace
The side sun terraces can only be used when using the front terrace. It extends the front sun terrace at the side of the pool.
---
Our Kids Pool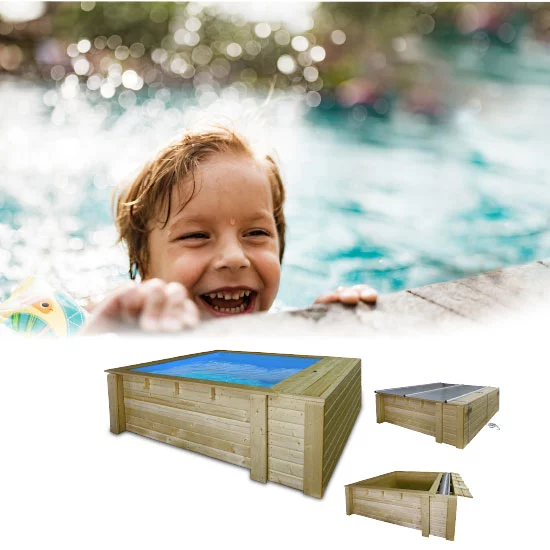 L220 x W220 x D78 cm
Wooden Deck: Solid spruce wood
Pool Liner: Color blue, thickness 0.6 mm
Wood: Chrome-free and glazed profiled wood, thickness 28 mm with double tongue and groove
Filter: Filter including pool pump, filter medium
Built-in parts: Skimmer and inlet nozzle, floor protection fleece
Optional: Attachment shaft and childproof roll-up protection cover
---
Santorini
Water Depth: 1 m

Capacity: 5.56 m3

Dimensions: 355 x 307cm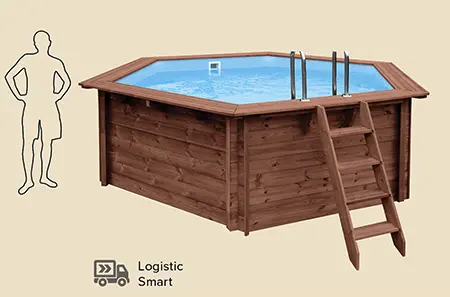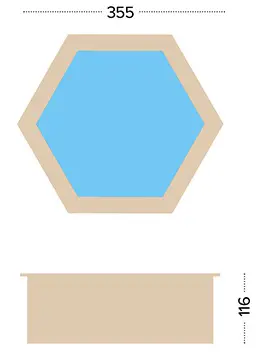 Aruba
Water Depth: 1 m

Capacity: 8,95 m3

Dimensions: 434 x 376cm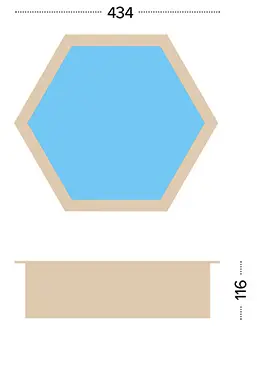 Barbados
Water Depth: 1 m

Capacity: 9,98 m3

Dimensions: 434 x 401cm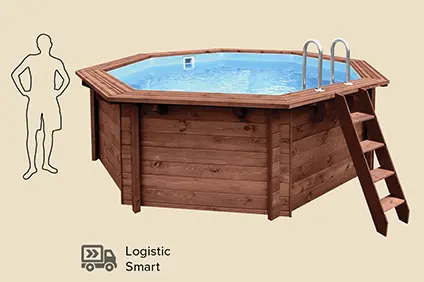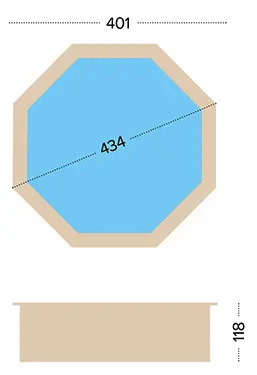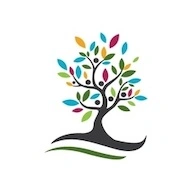 Sustainable Beauty
Natural materials used to build our products will help you seamlessly blend your pool into natural surroundings. Create a warm, natural look in your garden.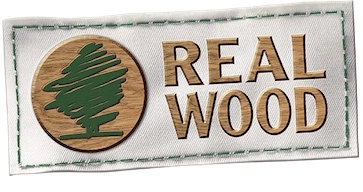 Solid and Aesthetic
Our pools are made of carefully selected wood from Scandinavian forests. Thanks to our unique wood protection method, they last longer. We can guarantee you that!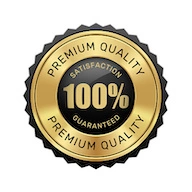 Quality Guaranteed
We are confident and proud of our top-quality materials and smart design. Therefore, all modular pools are coming with up to 8 years warranty.
Tahiti
Water Depth: 1 m

Capacity: 16,21 m3

Dimensions: 537 x 496 c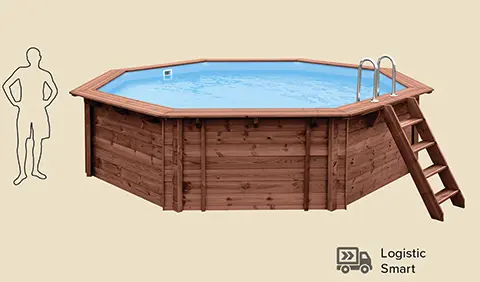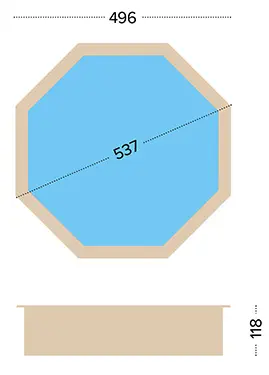 Mauritius
Water Depth: 1.13 m

Capacity: 20,07 m3

Dimensions: 560 x 517cm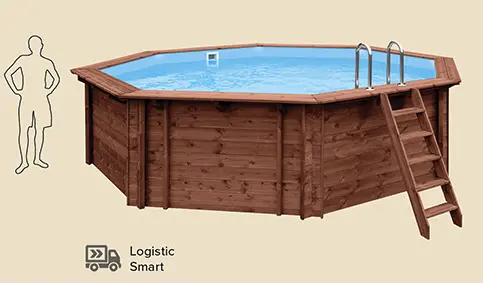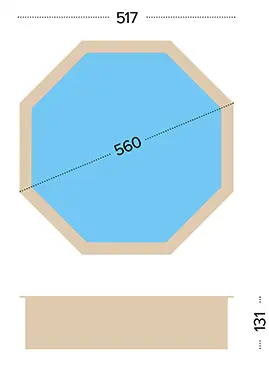 Puerto Rico
Water Depth: 1.06 m

Capacity: 18,87 m3

Dimensions: 627 x 396cm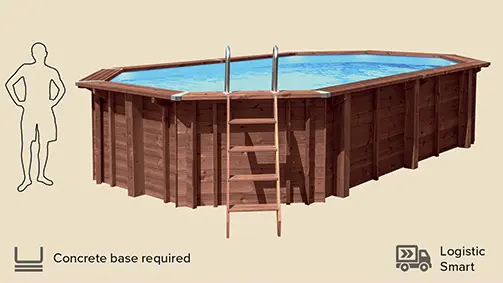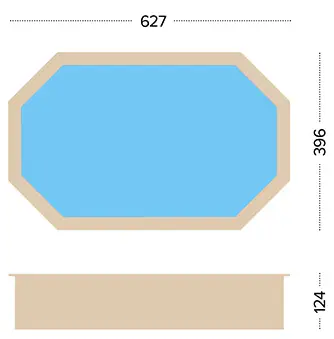 Capri
Water Depth: 1.06 m

Capacity: 27,82 m3

Dimensions: 698 x 467cm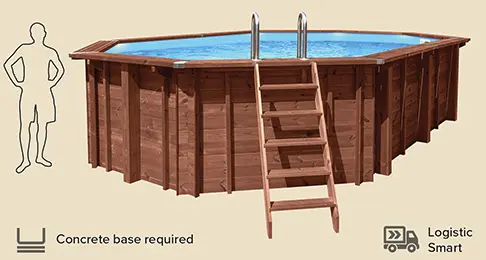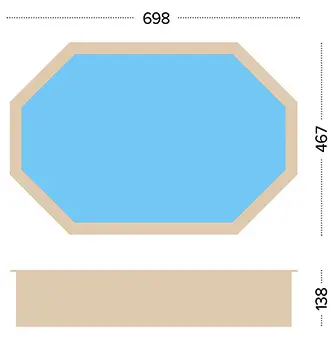 Jamaica
Water Depth: 1.20 m

Capacity: 40,75 m3

Dimensions: 897 x 496cm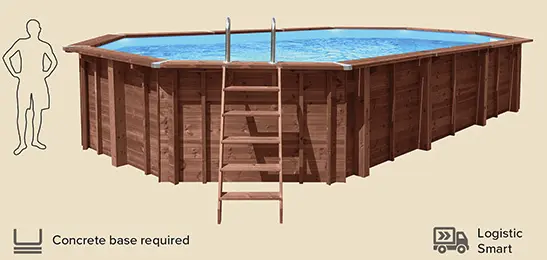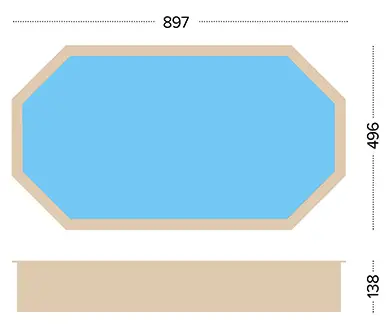 Flores
Water Depth: 1.20 m

Capacity: 36,80 m3

Dimensions: 801 x 463 cm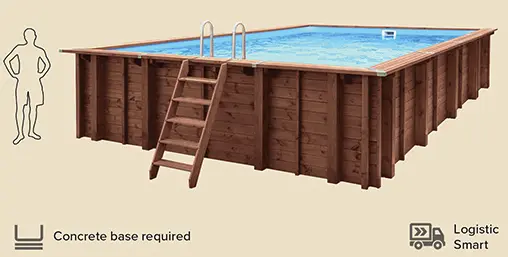 Wooden Pool Filtration Enclosures
Securely house your pool filtration and heating and prevent children from accessing them. Single and Double front doors. Enclosures are available both in Standard and Premium finishes. Premium version is suitable for in-ground installation.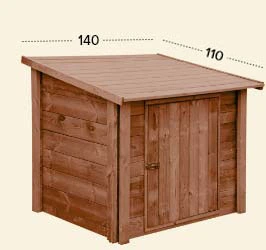 Extra Strength and Safety
Get extra covers and add more structural strength to your pool's crown. Smoothen corners of the wooden top deck and add a classy look to your pool. This option is available in standard plastic and luxury stainless steel outfits.

Cooling System
If you are looking to cool your wooden pool, we have an excellent solution for you. Extend your pool joy during sunny days, when the temperature tops.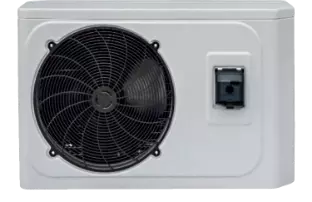 Pool Lighting
Bring special magic to your pool at night! Our quality waterproof LED lighting comes in two versions: white and multicolour.